DJ Entertainment
"Entertainment for all Occasions"
Contact our DJs/Artists

---
DJ Nicki Reed
Music for Your Special Occasion
· Anniversaries • Showers • Corporate Parties • School Socials • School Dances • Birthdays
Nicki Reed: Disc Jockey DJ Nicki Reed has been serving all of New England as a Professional Commercial Disc Jockey since 1999. Her love of music and public speaking skills led her to pursue DJ training under one of the regions' top wedding entertainment agencies and she has been DJ'ing ever since.

Nicki is professional, friendly, flexible and out-going. She arrives early for both set-up and sound check and dresses professionally for each event. Nicki works closely with you to help create music playlists and a mood for your event that feels personalized to your taste while also reading the crowd to create a great party. She is knowledgeable in all music genres from oldies to current and she prides herself in staying on top of current music hits.

DJ Nicki never overbooks herself. This way you can be sure she is 100% focused on your special event.

Nicki believes in letting the quality of the music speak for itself without over-the-top bells and whistles. If your party calls for novelty, Nicki can provide that as well! Nicki's rate is fixed and will not vary from person to person or venue to venue. DJ Nicki's quality never changes, so why should her price?
Request DJ Nicolette for your event
Looking for Santa? Bring Santa to your event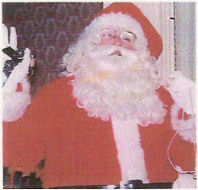 Rave Reviews: DJ Nicki
Subject: Thank you
I just want to give all 3 of you a big THANK YOU!
Nicki you did a great job especially crowd control!
It was a successful fundraiser and we made over $50,000! I can't believe it! There was over 350 people and everyone was extremely generous with their money especially in today's economy.
It is so wonderful when people come together to help others.
Again, thank you all so much. It was truly appreciated.
Hi Anita,Thank you again for all of your hard work. Our grad orientation was a huge success (again!!!) Mark pulled off the entire event flawlessly --- he had the party jumping from beginning to end.
We absolutely love workingwith him and will keep him in mind for any event for which we need a DJ.
With gratitude,
Gloria Gloria J Vandegrift
CVS Caremark